CUSTOM MUSICAL GREETING CARDS
Musical greeting cards are a great gift for the closest people. We will help you create an original gift – which will convey the most positive emotions and create a sense of celebration!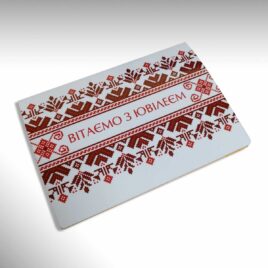 Musical card to order with high-quality and long-lasting sound
We offer the production of a musical card with a high-quality and long-lasting sound, with an individual design and the ability to record an individual melody. A musical card is made using expensive and high-quality components that allow you to record and play back the recording with maximum quality and long-lasting sound. And as a result, such a gift will cause the most positive feelings and emotions. The melody is played when the postcard is opened. The design of the postcard is developed individually, taking into account the wishes of the Customer, the layout is pre-agreed by e-mail. And you can also provide your layout. Musical card format is standard A5 (148.5 * 210 mm), execution can be horizontal or vertical. The sound file is provided by the Customer in the file format *.mp3, the size of a file or several files can be up to 2 GB. The card uses a battery that can be recharged as needed. Duration of charging up to 2 hours (use a power supply unit with an output current of 0.5A). The postcard is packed in a transparent polypropylene bag. Materials used: thick paper with a high-quality color print, glossy film coating, magnets, electronic sound module 2GB with USB cable, transparent polypropylene bag. Production time - 2-3 days. The musical greeting card can be sent by postal services anywhere in the world. The cost of the postcard is indicated excluding shipping costs.
Attention! The melody is provided by the customer and is fully responsible to third parties for the right to use it.
$

18.99
Read more
Greeting music card from Music💝Cards is the best gift for the most beloved and dear people!
Greeting cards have become an integral part of a culture of relationships people. It's always nice to get a postcard, but Music💝Cards musical cards are more than a postcard; they can be classified as an exclusive gift, with which you can beautifully express your attitude to a person.
What is the exclusivity secret of the musical card from Music💝Cards?
An exclusive feature is that each music greeting card from Music💝Cards has an individual graphic design and sound, i.e. all images and sound messages will be personal and in a single copy. Make an order and we will help create an original gift that will cause only the most positive emotions and will be remembered for a long time!